BetFirst Sports Review
Overview
Variety: 5/5
Quality: 3/5
User Experience: 5/5
Betting Options: 3/5
Overall: 4/5
Now that you know our betFIRST ratings, let's move this betFIRST sports review on with some basic facts about the company and the site. The company is based in Belgium and holds licenses in this small European country. It runs a sports book, offers live odds and virtual sports. It has a pay out rate of 94.25%. It offers stakes of 34 sports – including some truly obscure options including Futsal and Hurling. It also offers special bets on Politics – if you are happy to consider this a game.
The majority of customers who offer high betFIRST ratings come from Belgium and France – however with the emphasis on North American sports favourites such as American Football and Ice Hockey – there is also a solid following in Canada.
betFIRST software
One of the huge upsides in this betFIRST sports review is the mobile app. The app can be downloaded for free and is available on iOS and Android. The company try to lure you to the mobile experience by offer frequent cashback deals to those who gamble via a mobile device. This is not because the website is clunky and difficult to use in comparison – the website is actually wonderfully easy to navigate. The company just recognise that most people spend their time leisure browsing on mobile devices and want you to commit to the app download.
It is important to consider the live gaming available in this betFIRST sports review. betFIRST live betting is enhanced by its live streaming – and if you register for an account you can create your own stream of sports. This means that you can watch a lot of live sports from the app for a tiny wager – and it is fair to say that this was a massive influence on our betFIRST ratings offered.
The betting, the odds and the prices
The reason to use betFIRST is ultimately because of the range of sports offered. There are the normal options – football, obviously – and baseball, basketball, ice hockey and American football. But, they also offer bets on other less well-known options – including contact sports like MMA. There has also been the addition of esports recently – which has been widely celebrated by video game fans. The list of esports offered is still relatively short – but this is one of the first sites willing to offer this as an option.
Another great feature of betting with this site, which is worth highlighting in a betFIRST sports review, is the chance to take on long-term bets on upcoming competitions and matches. The site is also particularly good at offering horse racing betting opportunities – literally dozens of betting events each week. What we like the most is that the site offers the best odds guaranteed on horse and greyhound racing – which means you can be sure you are getting the best chance of a high win.
Yet, there are reasons not to opt for this site over the mainstream options. The odds they offer are nothing special and the return to player pay out is relatively low. Also, if you do opt for the long-term bets then your money is tied into this site with no hope of the odds changing closer to the sporting event.
Promotions and customer services
The betFIRST sports review is always going to look for quality promotions and a quality user experience. This is a crowded market – and it is important that sites work hard for the loyalty of users. Browser users can benefit from up to a 100 Euros of cashback, if they are clever in the way they use the site. Mobile users of betFIRST are further rewarded with a 10 Euro cash back on the bets. These are not overwhelming offers and the terms and conditions require you to bet any winnings again on odds over 2/1.
The bonuses are in the form of a reimbursement on a losing wager – as opposed to a cash pay out on signing up to the account. This is essentially a free bet – but with the site only paying out the bonus if you lose. You are going to like the site if you win anyway and the site gets to protect its profits.
There is a combo boost promotion. This applies to accumulator bets and only for those who are members of the site – so you will need to sign up to an account. This can enhance any profits you make by 50% – up to a maximum 10000 Euros – so this is a worthwhile offer that will prompt serious gamblers to sign up with the website.
One of the real highs of this betFIRST sports review – and one that will enjoy a positive betFIRST rating – is the speed and reliability of the customer service team. Help can be provided in English, German and French – and live chat is available 24/7.
There are also numerous payment options – though these tend to favour traditional banking modes of payment over electronic wallets. There is no commission charged on withdrawals and the waiting time is usually no more than 3 days – which is pretty quick in the world of gambling websites.
betFIRST sports reviews by customers are generally really positive. Most of the sites players come from within Belgium and they are the country's leading operator. Therefore, Belgium players show a good deal of loyalty to the site.
Our overall betFIRST ratings
At the end of the day, our conclusion in this betFIRST sports review is that it is a small bookmaker that may have big ambitions but at the moment lacks the might to offer the promotions and experiences of the bigger sites. But, as our betFIRST ratings suggest – it is worth giving this site a try!
Pros / Cons
The website is easy to navigate.
Any betFIRST sports review should acknowledge the breadth of choice of sports on offer.
betFIRST offer live streaming TV of hundreds of sports events available to account holders – even if you have as little as a penny deposited with the site.
Odds and promotions are nothing to write home about – more variety in offers are best found in the global sports gambling brands.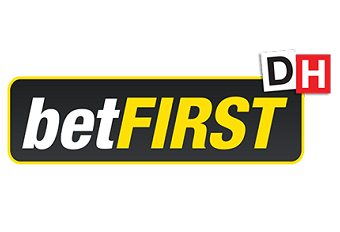 Play now