Coral Sports Review
Overview
Variety: 5/5
Quality: 5/5
User Experience: 5/5
Betting Options: 5/5
Overall: 5/5
So, these are our Coral ratings, but what about our Coral sports review? Here are some basic facts to get us started. Coral was founded in 1926 – and as such has the longest legacy of all betting companies we could find. They created Gala Coral Group from this early beginning– and now has more than 1700 shops across the UK. It is based in Nottingham, England – and is licensed by the UK Gambling Commission and by authorities in Gibraltar. The popularity of the company is not restricted to its high street shops – literally millions of gamblers visit the online offering each day.
Coral software
Coral have outsourced the development of their online offering to Playtech – and use Geneity Limited for its sportsbook. This is a strong cohort of talent working together on the user experience – and as such the online offering is slick and intuitive. It also ensures there is a consistency across the sites – with Coral sports gambling now in line with Gala – its sister company.
Unlike other sites of the age of a company such as Coral, it does not stay fixed to a traditional idea of a bookmaker. It is fair to say that our Coral ratings are influenced significantly by the amazing graphics on the site. There are 3D odds selectors, pop-up betting slips – and an attention to small details of design that really impress us. Of course, this is not the main function of the site and shouldn't really deserve too much time in a Coral sports review. However, it is good that a company with such long roots in the industry understands that it needs to evolve and develop in order to maintain its audience.
The betting experience is particularly smooth – with effective animation guiding you through the process. We felt that this was the perfect site for a newbie to online betting – because the user experience is so intuitive and without pretention that anyone could use it.
There is also a dedicated mobile app for Coral – which creates a fluency of experience from the main site. You can also watch live horse racing on the app – as well as take advantage of offers that are only offered through the mobile app. The introduction of Coral Radio – offering all the background on sports and commentary is also a nod to the full experience demanded by the user today.
The core experience of the site and the mobile app is by far the best feature for us in this Coral sports review.
The betting, the odds and the prices
Any Coral sports review and Coral rating should place a heavy emphasis on the betting – the odds – and the prices offered by a site. Coral offers decent odds across the range of sports – they are not likely to be the best odds you will find – but they are impressively consistent across markets. Some bookmakers could be accused of creating a delectable shop window with premier league football and elite horse races – whilst the stock room is full of dud deals. The breadth of bets across the site are competitive- and we applaud Coral for this choice.
A small detail that is worth celebrating in this Coral sports review is the use of colour coding to indicate if the odds are a good deal or not. Pink represents a price going out and blue a price coming in. This puts the punter fully in control.
There are also an impressive range of sports – with 30 different sports listed. This includes all those you would expect – but also includes MMA and politics – which are obviously both fairly hands on sports. Each sport then includes a range of markets – some standard, such as 'predict the score' – and some such as the double chance markets that are specialist to Coral.
There is also in-play on the site. These in-play odds are constantly updated – giving the sports enthusiast another thing to keep an eye on whilst enjoying their favourite sports event.
Promotions and customer services
The reason why we rave about this site so much in this Coral sports review is because it works hard on the experience of the user. This experience stretches to the promotions offered on the site. There are an impressive range – including free bets and a first deposit matching scheme for new users of the site. There are also regular enhanced odds – and a best price guarantee on the horse racing markets.
Coral lacks a loyalty program, which some of its competitors use to great advantage – and this needs to be factored into any Coral ratings. However, you can only access Coral radio if you are a registered user.
Again, customer support is excellent. This conforms to the view that user experience is paramount to this company. They offer a free phone number, email support and an internal messaging system for registered users to the site. There is also a range of payment options available, including PayPal, UKash, and Skrill. This is a huge company with a lot of resources – and it uses these well to make sure the user experience is fluent and positive – as a lot of customer reviews attest to.
Our overall Coral ratings
Coral is a company that has existed for almost a hundred years. It has a legacy of reputable and reliable trading – but it also innovates and develops with its users. The look of the website and the emphasis of in-play betting show that there is experience matched with ambition at this online bookmaker.
Pros / Cons
Huge range of sports and markets within these sports
Competitive odds with transparent colour coding to help the user judge the deal they are getting
We confirm in this Coral sports review that the site offers the best user experience amongst its competition.
It is disappointing that there isn't a more refined loyalty scheme to celebrate its regulars' contributions.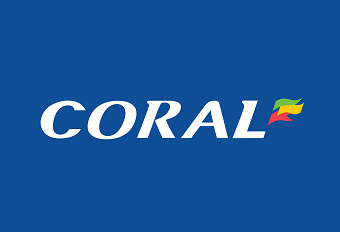 Play now